Gutshaus Ballin (Ballin Hall)
Of special note: features a baroque octagonal closed lantern crowning the roof and a two-storey six-axis porch.
Contact
Ballin, Lindetal, Deutschland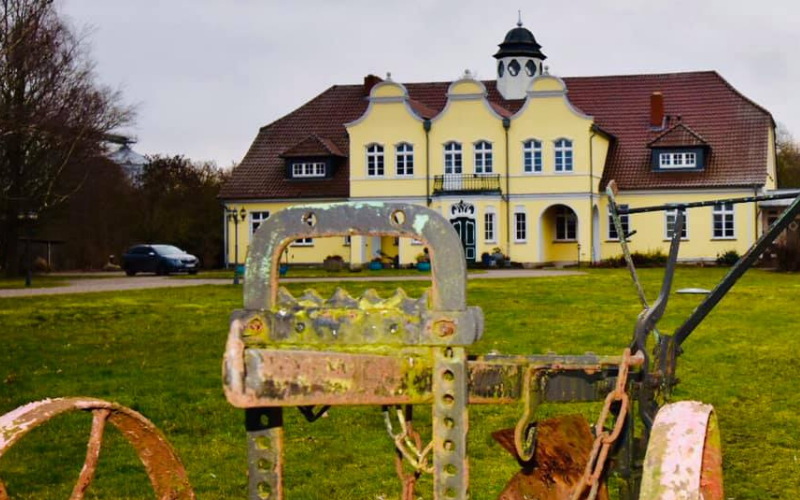 The village with its almost 250 inhabitants is built closely around the central church without a tower. Garages, gardens and swings for children are bordering directly on the churchyard wall.
The hall itself is set back to the south. The single-storeyed plaster building with the half-hipped roof was built in 1837 by then tenant Hollin and richly furbished with 15 living rooms, 2 bathing rooms, 4 chambers and 1 kitchen with 2 pantries and a spacious vestibule.
From 1810 to 1945 the estate was owned by the Dukes of Mecklenburg-Strelitz. The house itself features a baroque octagonal closed roof lantern and a two-storeyed six-axis porch.
After expropriation in 1945, it housed war refugees, was used as a kindergarten and offices for the VEG (the people owned estate during the GDR) and accommodated dormitories for apprentices. In 1993 it was renovated by Dr. H. Konseder and was later passed onto his sons. Today, it is the location of Saatzucht Steinach GmbH, a seed production company.
The village church dates from the 13th century. After its destruction in the Thirty Years War, it was rebuilt without a tower. Nowadazs, 2 steel bells from the 1920s call worshippers to Sunday service. Thanks to many small donations from the villagers, the church received a heated winter church under the gallery in the 1990s. The Sauer organ (last overhauled in 1924) located in the church is unfortunately unplayable.