Gutshof Wilsickow (Wilsickow Hall)
The history of those v. Holtzendorff
Contact
Wilsickow 2
17337 Uckerland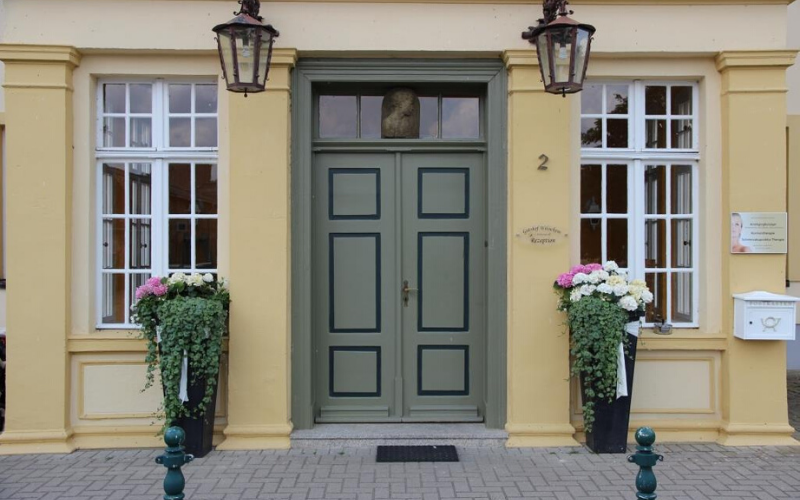 Baronet Henning von Oldenvlyt sold the Wilsickow estate to brother Friedrich and Christoph von Arnstorff in 1466, whose descendants held it until 1742 when Henning Joachim von Holtzendorff purchased the manor and its surrounding 1000 hectares of arable land. The house itself was built in the middle of the 18th century. Around 1880, a two-storey building with a stair turret was added on the southern side, but it fell into disrepair and was eventually demolished in 1994.
Around 1900 the then-owners Axel and Cäcilie von Holtzendorff carried out extensive modernisation measures, primarily on agricultural buildings. In 1923, a villa was erected as part of a life estate, to which she planned to retire. It is now used as a café and a holiday home. The façade sports the coat of arms of the von Holtzendorffs and underneath, the son Dietrich v. Holtzendorff added a maxim of his father's. It is a quote from Ovid's "Cures for Love":
RURA QUOQUE OBLECTANT ANIMOS STUDIUMQUE COLENDIQUELIBET HUIC CURAE CEDERE CURA POTESTOvidi Remedia Amoris V.169
"Country life and the joy of farming are also pleasing to the mind; whoever dedicates himself to worry has peace from others."
The last owners before the expropriation in 1945 and the ensuing land reform were Dietrich and Ehrengard von Holtzendorff. After the war, refugees moved into the manor house, later offices, a general store, the kingergarten and a doctor's practice. In 1994, Ilsa Marie von Holtzendorff, the granddaughter of Dietrich and Ehrengard, acquired the estate together with her partner. Since then, the entire estate has been lovingly and painstakingly restored.