Festung Spantekow (Spantekow Castle)
The fortress was laid out as an irregular square and is completely surrounded by a water-filled moat.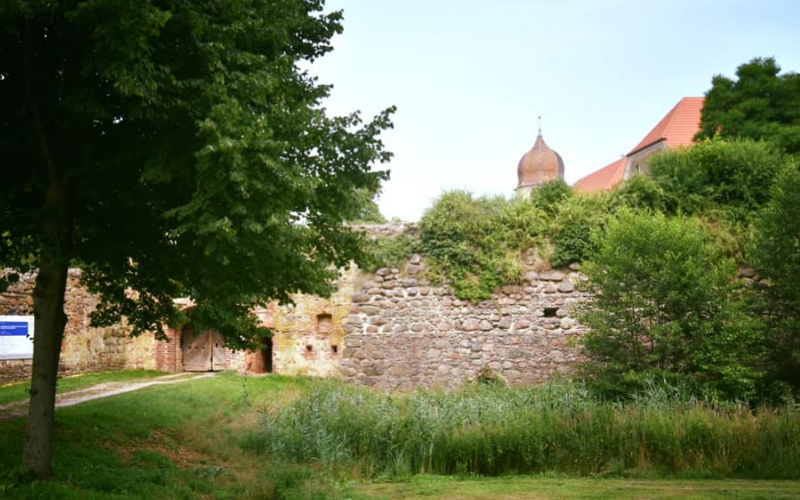 The fortress in Spantekow is the only preserved ringfort from the early Renaissance in Northern Germany. Based on the Italian models of the same time, it covers an area of roughly 1 hectare. Castle and fortress form an extraordinary ensemble of monuments.

Spantekow, destroyed during war, was completely rebuilt from 1558 to 1587, by Lord High Steward Ulrich von Schwerin and his wife Anna. He completely redesigned the fort and laid it out as an irregular square, surrounded by a water-filled moat.

During the Thirty Years' War, Spantekow was a base of resistance against the imperial troops, but was ultimately conquered by Brandenburg in the Nordic War against Sweden.

The original layout of the fortress remained intact, but the castle was used as a stately home from then on. In 1715, it was confiscated and became a royal prussian domain. In 1833, after a century-long lawsuit, the castle along with the estates Spantekow, Releblow and Drewelow, as well as 40.000 thalers were returned to the von Schwerins. It belonged to the family until its renewed expropriation in 1945.

During the GDR era, the site was used as a nursing home.

In 1999, Kaspar Freiherr von Harnier, grandson and heir to Hans Bone von Schwerin) could re-acquire the family estate.

The castle is currently closed to visitors due to extensive renovations. There are plans to open the house to the general public as an international arts centre and music academy.