Gut Kutzerow (Kutzerow Hall)
The knight's estate of Kremzow Hall was first established in the 14th century by the descendants of the house of Cremzow.
Contact
Kutzerow, Uckerland, Deutschland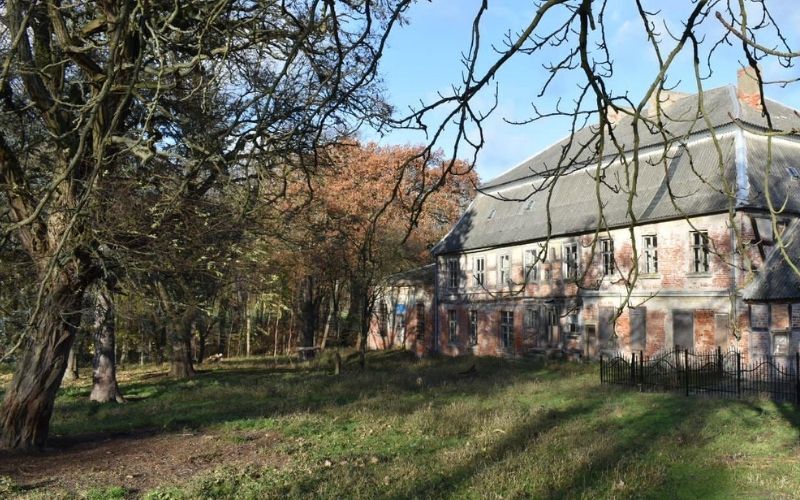 The property is located at the western edge of the village in the Uckermark and consists of a rectangular farmyard, which us bordered by the manor house and an inspectors' house on the western side, and by two farm buildings to the south.
The historical buildings on the eastern and northern sides are missing. The originally half-timbered hall with mansard roof from around 1740 was extended on the northern side in the last third of the 19th century by a wing with a flat gable roof. It was commissioned by the last male heir of the family, Reinhold von Winterfeld, the build was likely motivated by trying to keep the cost of finding a suitable match for one of his four daughters, Luise von Winterfeld (1852-1919), and the necessary social gatherings that required, low.
At the beginning of the Franco-Prussian war in 1870, Luise von Winterfeld married Lieutenant Kurt von Wedel (1846/1927), who took ownership of Kutzerow after paying her father 300.000 thaler. The "Ahnensaal" (hall of ancestors) dating back to that time is preserved in its original size, but apart from a minstrels' gallery with a wooden balustrade no other special features survive.
A long, two-storeyed outbuilding borders on one side of the farmyard, at a right angle to the Inspector's house, and on the eastern side looms a stable with feed stores.
Major changes were made to the estate in the 1930s, and again a decade later when it was expropriated in 1945, after which most buildings were refurbished for residential purposes. The last tenants moved out in 1990. Since then the hall stood empty and was threatened by decay.
Since 2012, new owner Michael Schneider, a dealer and conservator of historical cars, has been trying to keep nature on the grounds at bay and save the estate after its decades of disuse.