Gutshaus Genzkow (Genzkow Hall)
An oval yard bordering the 660 metres long village green bends around the manor garden in an S-shape.
Contact
Genzkow, Deutschland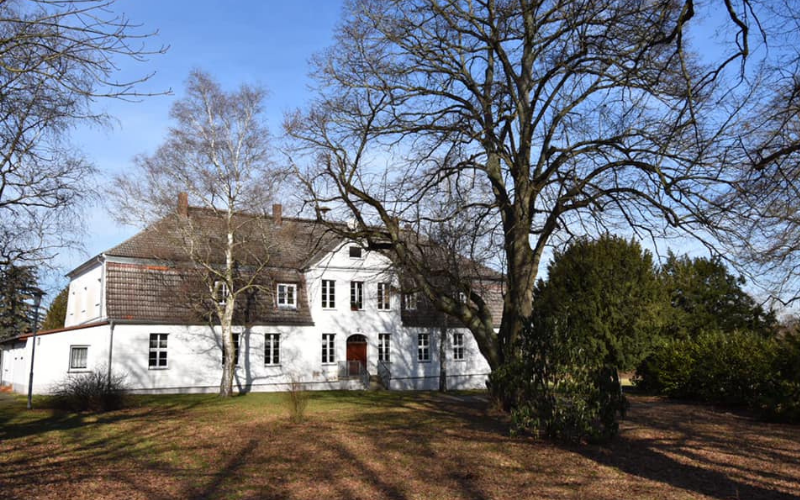 The over 700-year old Genzkow (first mentioned in 1298) has developed into a beautiful village over the centuries, lying amidst a charming landscape at the foot of the Brohmer Hills.

Provost of Stargard, G. Krüger described the place in 1925: "Genzkow, ¾ miles southwest of Friedland, with a lake, not far from the Neubrandenburg-Friedland Chaussee, on a fertile, rather hilly field, domain with a church – branch of Jatzke – school, smithy…"

"As the outer line of the Wörde (raised farmstead, hilly location) shows, the old farm was laid out as a rectangular village on the north-west bank of the lake, cut vertically by an overflow ditch. The church is surrounded by an oval yard bordering the 660 metres long village green, which bends around the manor garden in an S-shape."

The small village from the description with its around 200 inhabitants is still recognisable today. Only the school and the smithy got lost in history.

The manor house itself was built by Otto Friedrich von Bardeleben in the second half of the 1770s, as a massive, single-storey plaster building with mansard roof, and expanded 30 years later to include the outer axes.

After that, owners changed frequently. In 1905 the estate went to Otto Diederichs, whose widow owned it until the end of World War II when it was expropriated as part of the socialist land reform.

A park spreads out between church, manor house and lake (Genzkower Graben). A massive pine in the park is not crowned by leaves, but by a storks nest. For decades, the nest was located on the roof of the old stables across from the church… but after the stables were demolished the pine became the new home of the old stork couple. They return every summer to fill the village with familiar rattling noises.