Gutshaus Krumbeck (Krumbeck Hall)
The idyllic manor house is located between meadows and forests near the picturesque Lenné Park.
Contact
Krumbeck, Feldberger Seenlandschaft, Deutschland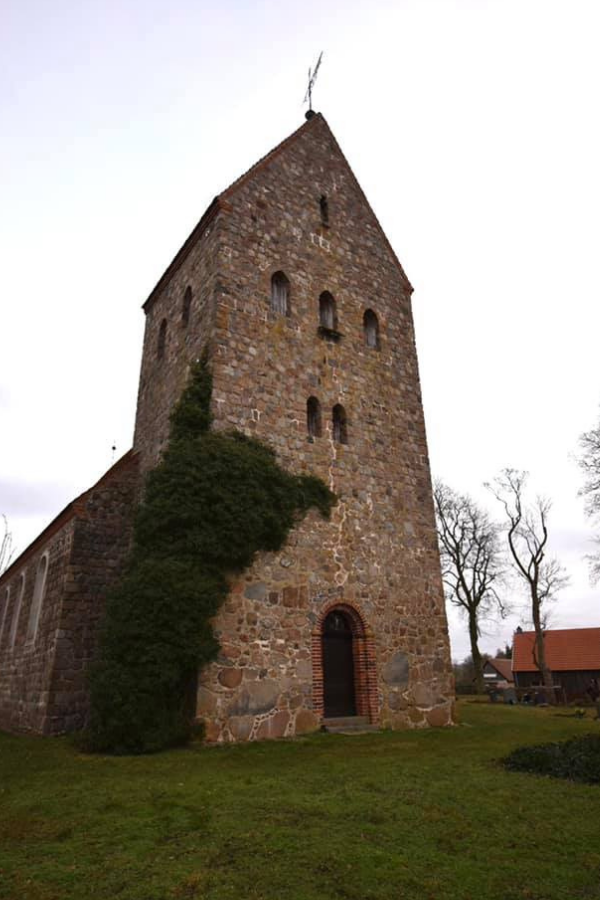 After passing through the nature reserve Wacholderberg, we reach the Krumbeck estate. The eponymous "krummer Bach" (crooked creek) runs through the village and the Lenné park to this day. But first we come across the former fortified church dating to the 14th century with its funerary chapel built for the patron Otto von Dewitz in 1858. The church itself was rebuilt in 1862, like so many manor houses and churches in the vicinity, after plans by famous architect F.W. Buttel.
In 2002, the patronage for the church Krumbeck was renewed under Isabelle Kühne von Dewitz et al.

With the help of its new patroness, extensive renovation measures were implemented in the field stone church, which had been barely accessible due to the ceiling caving in in 1990.

On the way to the manor, we inevitably cross the Lennépark created in 1832 by Otto von Dewitz. The picturesque park contains several watercourses, streams, ponds and innumerous monumental trees. Visual axis and vistas present themselves all around, between manor house, smithy, distillery, farmyard and the village of Krumbeck itself with its church.

The estate has been, with an interruption from 1945 to 1996, in the hands of the von Dewitz family since its acquisition in 1797. The only building original to the hall is the kitchen and utility building on the right side, built at an angle. Krumbeck Hall sadly burnt down in 1952. During the cold war, the remaining buildings housed war refugees, a dormitory for apprentices and farmhands and a communal kitchen, a restaurant ("Zum roten Hirsch) and private apartments. Isabelle Kühne, a descendant of the von Dewitz family was able to reacquire the estate after five-year long negotiations with the parish. The house was renovated until 1997 and is now home to an ever-growing agricultural enterprise.