Schwichtenberg
Museum village Schwichtenberg with foundling garden and narrow-gauge railway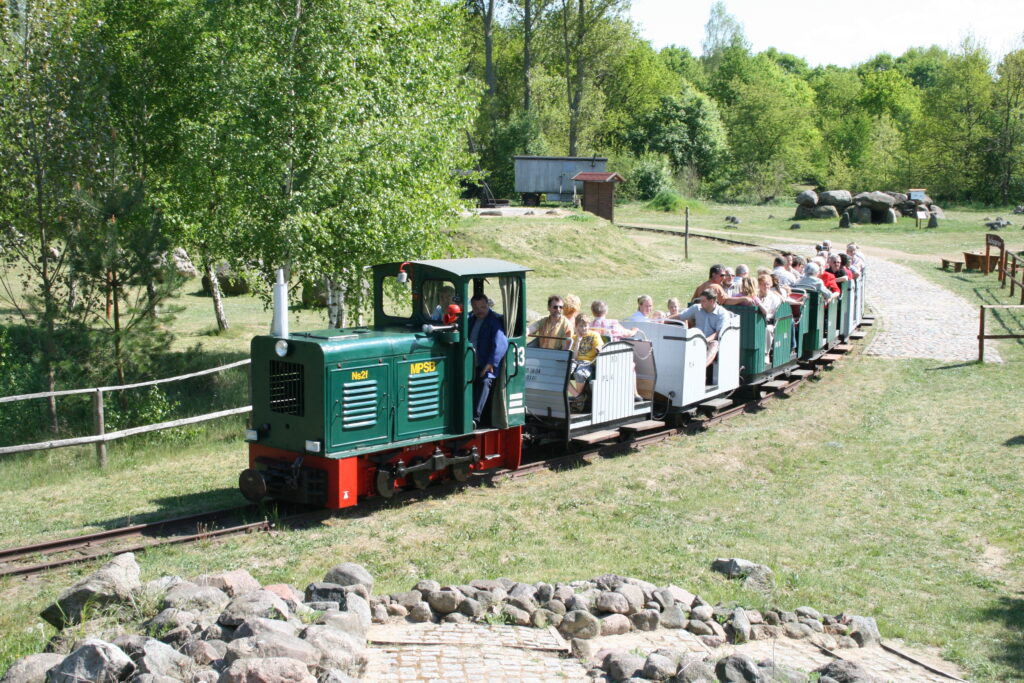 The village of Schwichtenberg is located in the northern part of the municipality of Galenbeck in the district of Mecklenburg-Strelitz.
The municipality of Galenbeck is very diverse. The north-eastern part on the Galenbecker See and on the Friedländer Große Wiese is a former moor area and is only 6 m above sea level. South of Lake Galenbeck, which, like the surrounding shore area, is a nature reserve, the terminal moraine arch of the wooded Brohm Mountains rises up to 153 m above sea level – a difference in altitude over a few kilometers that is rare in northern Germany.
The original manor between Putzarer, Galenbecker and Lübkowsee came to the Friedländer Marienkirche during the time of the Crusades, later to the city of Friedland. After a fire that completely destroyed the town, Schwichtenberg was rebuilt as a planned Angerdorf at the end of the 18th century. From here, in 1937, the Reich Labor Service began to drain the Great Field in Friedland. The work was completed in 1962 as part of a so-called Central Youth Object of the FDJ.
The museum village of Schwichtenberg is known to many people in the region. With its various facilities such as the boulder garden with school forest, the Mecklenburg-Pomeranian narrow-gauge railway, and the herb garden, it attracts numerous visitors and guests every year. In this way, the interested visitor can learn a lot of interesting facts about life and work in the country in the past and present, in addition to regional and culinary things.
Foundling garden
A foundling garden or foundling park is an open-air collection of foundlings. Large boulders of more than 1 m³ are called foundling.
Exhibitions of this kind have only emerged in the last few decades. They offer the opportunity to view glacial boulders that come to light in the vicinity. In addition to the protection aspect, there is the concern to illustrate geological epochs and their rock formations with the help of an exemplary selection of foundlings. Of interest are the information on the transport routes of the debris during the ice ages, which are illustrated on display boards. Note: Please contact the municipality of Galenbeck for visiting hours.
Narrow-gauge railway
We drive very comfortably through the Friedländer Wiese from Schwichtenberg via the boulder garden to Uhlenhorst. There is something for young and old to experience at each of these stations. In Schwichtenberg there is the opportunity to take a closer look at the technology, the vehicles renovated by the association can be viewed in the vehicle hall. In the foundling garden you can travel much further back in time and see the effects of the Ice Age and maybe learn something new. At the Uhlenhorst terminal there is a snack bar, an adventure playground, vantage points and information boards on the history of the MPSB (Mecklenburg-Pommersche narrow-gauge railway).